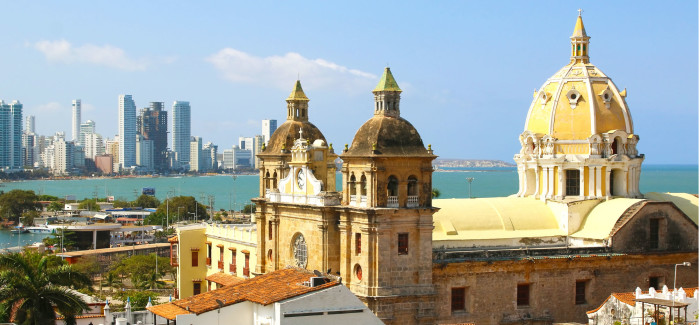 Looking to have the perfect Colombian vacation? You are in the right place.
Those who are fortunate enough to visit this beautiful country often find it difficult to leave… and that's for good reason.
Colombia is home to some of the best vacation spots in South America due to its diverse natural beauties ranging from the thick jungle to the clear blue beaches.
It's a lively place with plenty of culture, lots of joy, and a people ready to welcome you with welcome arms. Colombia has the perfect vacation spots for those looking for pure relaxation on the beach or a lively adventure with friends backpacking the rainforest.
Read on to see what appeals most to you as you book your next big getaway.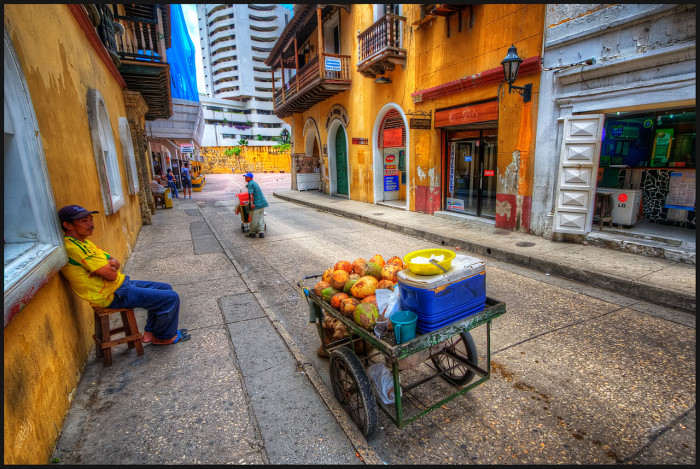 7 Best Vacation Spots in Colombia
1. The Irotama Resort
We start off our recommendation list with a very popular vacation spot.
With locations in Bogota and Santa Marta, the Irotama Resort is the perfect place to go and relax at an affordable price. The Santa Marta hotel sits right overlooking the majestic Caribbean beach.
It's a great place to take in the sunset or swim in the refreshingly cool waters. The hotel also houses a spa and an enclosed pool for those that need to take rest and relaxation to another level.
Colombian resorts are ideal for those looking to get away from busy city life and needing to unwind. The cost is generally less than half of what you would pay in the states for a similar venue.
The Irotama is a four-star rated resort that provides high-value R&R at a great value and price.
2. Parque Nacional Tayrona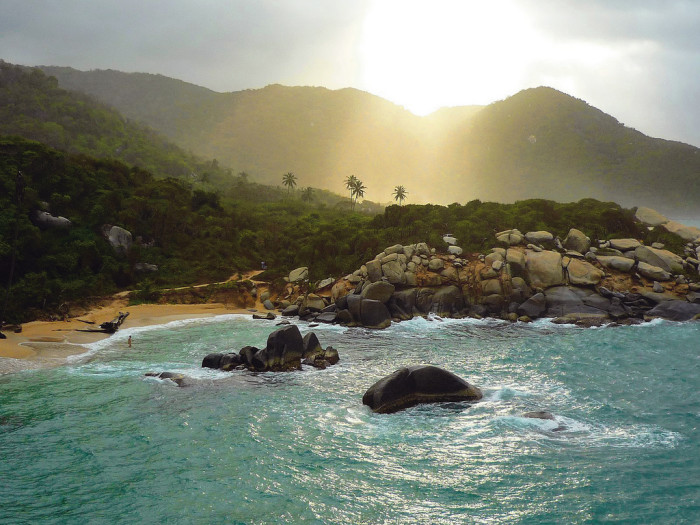 Those who want to see the rich beauty of Colombia should look no further than Tayrona National Park.
It's a place that we are currently planning our visit around next week. The protected area has beautiful beaches that are among lush greenery and plant life native to the country.
Those who enjoy nature can also take hikes through the rainforest. Personally, we are looking forward to exploring the trails and seeing all that this beautiful park has to offer. The park is also located in Santa Marta in an area that is ideal for those who want to witness nature and spend their vacation away from the somewhat commercial beaches.
My wife and I just got back from Parque Tayrona last week and we were blown away by the natural beauty as you can see the beautiful coastline and the Colombian jungle as you hike through the park. It was truly one of my hikes I have done and that includes some of the best day hikes in the US.
3. La Candelaria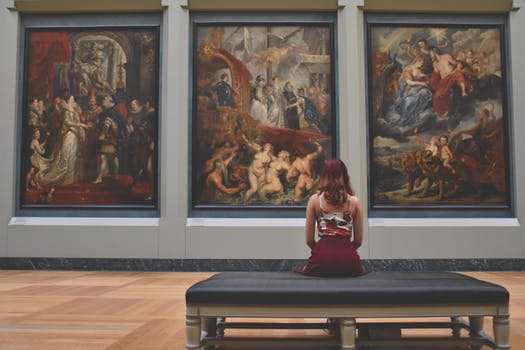 Bogota is the country's capital and a great place to stay if you are looking for a modern, comfortable stay and learn about the country's history and present. There are a plethora of great, low-cost museums and historical sites to see in Bogota.
Furthermore, if you came to Colombia to learn about the culture and the history of the country, then consider staying somewhere close to La Candelaria.
The historic city holds some of the country's most cherished and impressive pieces of art. For example, it houses the world renown works of Fernando Botero and houses the Gold Museum.
The highest rated hotels are the Bogota Marriott and a JW Marriott Hotel in the city with La Candelaria close by and easy to walk to.
4. Zuana Beach Resort
Are you coming to Colombia to check out the beautiful beaches and fantastic coast? Cartagena and Santa Marta are some of the countries most popular spots to visit.
Beachgoers, look no further than the Zuana Beach Resort. The resort is a gorgeous, upscale resort that provides all you need in one location. It has restaurants, bars, a spa, and a gym all a short distance from the comfort of your room.
If you are looking to explore a little bit around you the white sands await your arrival. The Zuana Beach Resort has locations in Magdalena, Cartagena, and Santa Marta.
Each area has a majestic feel to it, although Cartagena is probably the more popular pick due to its closeness to several tourist destinations. The ideal scenery will serve as the perfect backdrop to your vacation no matter which place you choose to stay at.
5. GHL Hotel Capital
If you find yourself wanting a nightlife to experience, then staying at the GHL Hotel will provide that.
This hotel has nightlife galore in the easily accessible accompanying downtown of Bogota. The city has many late-night bars and dance clubs for partygoers who want a night out in Colombia.
The hotel is also close by to shopping centers and city parks so it proves to be the perfect central location for those making a stay in the capital. If you are looking for a wild and exciting experience in Colombia than this could have the makings for an unforgettable one in Bogota's famous GHL Hotel.
6. Cartagena Urban Royal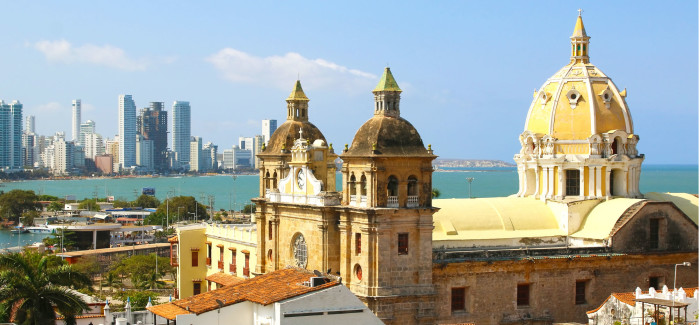 Without a doubt, the most popular tourist town in Colombia is Cartagena.
Flights into the city are reasonable and people come off cruise ships by the boatload to see this old time historical city. It is a city that the Spanish once used to fight off the invading British.
You can even walk through the Spanish fort while you are there, which I highly recommend doing.
The Cartagena Urban Royal sits right in the heart of the "Walled City." Cartagena has much to do in terms of shopping and sight-seeing than your average coastal town with rows on rows of people selling local food and tourist trinkets.
However, it also serves as a historic landmark. Many come to the city to see the largely unchanged architecture. The hotel is close to the popular Bocagrande beach. The water is warm and the sand is smooth which makes for a nice place to lay your towel down for the day.
This is yet another great spot for those who want to witness the true identity of Colombia and its history.
7. Playa Blanca
Finally, we come to Playa Blanca.
An extremely picturesque beach located off Cartagena. The beach is accessed by ferry or tour boat. We took a small dingy boat with a few other travelers and got to experience the white sands first hand. On the island, there is plenty of things to do like scuba dive or take a jet ski for a spin.
At the very least you can enjoy the warm, clear blue waters and enjoy some freshly cooked trout. Those who go to the island are amazed by its seemingly untouched crystal clear water and smooth white sands. A big benefit is you are less likely to pay the expensive prices of Europe or North America.
If you do plan to visit Playa Blanca, you can stay in the small cabanas for an overnight trip on the island. Or you can do as we did and stay in Cartagena in a nice hotel take a boat in and out for a full day trip.
Conclusion
Colombia has an endless array of options for those looking for a full Colombian experience. You can find bustling city centers that come alive at night and quiet beaches to relax during the day.
Colombia has a deep and dark past (Pablo Escobar), but also plenty of life with its art, food, and dancing to take in the culture. It's also one of the best places to go to learn Spanish as the dialect is clear and the speakers, for the most part, speak at a steady pace.
Wherever you choose to stay, be sure to spend your time wisely and make the most of your experience. Leave the hotel and beach every now and then to find a few cultural or historical points of interest that give character to the country that I am proud to live in.
What place are you most looking forward to visiting? Let me know and I am happy to respond with advice.
About the author: Nate Alger has spent time traveling all over Latin America and currently resides with his wife in Bucaramanga, Colombia. He loves everything outdoors and provides gear and travel recommendations at liveoutdoorsy.com.