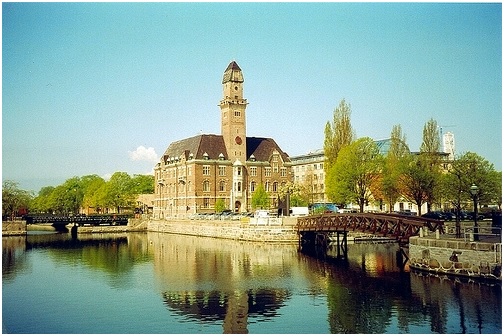 Malmo is Sweden's 3rd largest city and home to Scandinavia's most picturesque attractions and places of interest. Packed with edgy contemporary museums, beautiful parks and incredible cuisine, the city has been completely transformed in 2000, when the Oresund Bridge was opened. This bridge was meant to connect Malmo to the cooler and bigger Copenhagen. Nowadays, Malmo is a dynamic urban conglomeration defined by a sleek Italian coffee culture, striking Middle Eastern streets and hipster skateboard parks.
The multicultural allure of Malmo
Malmo has a lively historic core, incredible places of interest and lots of activities tourists can try out. Stortorget is the main square, a showpiece of a recreational spot that reminds more of Hamburg than of Stockholm. In the heart of Malmo there's the Old Town, also known as Gamla Staden, a beautiful place surrounded by a canal. Onsite, tourists will stumble upon 3 main squares: Lilla Torg, Stortorget, and Gustav Adolf's Torg. There's also an interesting castle here, Malmohus Slott, as well as a snazzy harbor across the canal packed with all kinds of restaurants and original cafes.
Scandinavia's hippest hub – Malmo
Malmo is a city in Sweden that is slowly becoming Scandinavia's hippest hub. Apparently, some of the region's finest chefs have restaurants here. People are obsessed with excellent food, the rent is cheap and the general ambiance makes tourists feel incredibly festive. A special bistro recently opened here. It is called Tryne Till Knorr, and it belongs to the well-known Robin Eriksson, a chef who moved from Stockholm to Malmo because he saw a lot of potential in this enticing city.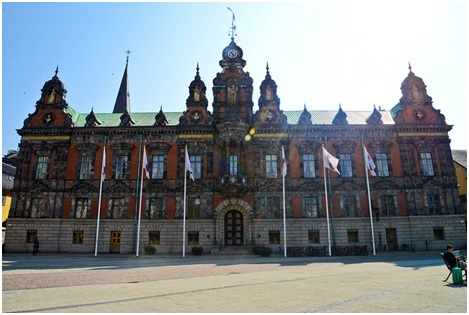 Progressively designed neighborhoods
Malmo is an architectural work of art. It used to be part of a government-funded competition where architects had to create statement-making structures with renewable sources of energy. Together with Copenhagen, Malmo makes up the Oresund Region, which is the most densely populated in all Scandinavia. Classified as a global city, Malmo was ranked 5th by the GaWC in Scandinavia. It was also ranked the 4th most resourceful city in the world based on a specific number of patent applications per a number of 10,000 residents.
Malmo was also Scandinavia's most industrialized towns, although it had a lot to endure during the post-industrialism period. Ever since the Oresund Bridge was constructed, Malmo went through several transformations and architectural developments. This persuaded many IT and biotech companies to invest in this region.
Malmo's coffee houses
Malmo takes its coffee extremely seriously, and there are lots of cafes and bistros spread across the city. From on-site roasting, single-estate beans, and cups brewed with advanced gadgets to minimally-designed coffee houses, Malmo is a coffee heaven. The beautifully-designed Kaffebaren på Mölla is famous for its espresso coffee, while Solde Kaffebar makes Malmo's most delicious cortado, a type of coffee which in fact is half micro-foam milk and half espresso.
Incredible nightlife
Southern Sweden has been flooded with incredible nightlife, and Malmo is the kind of city that offers an excellent nightlife scene. Belle Epoque for example, is a relaxing lounge with delicious cocktails. Among some of the deadliest combinations are sparkling wine with absinthe and violet liqueur. If you're in the mood for something more sophisticated, maybe you should check out Rosen Bar & Dining, a soothing pub with an incredible variety of international vodkas.
Places to see in Malmo
Malmo is an architectural city with amazing places to see. Leaving aside the innovative buildings and new edifices, the metropolis prides itself with staggering historical attractions too. Sankt Petri Church is Malmo's oldest building; built in the 18th century, this beautiful cathedral has the most striking arches and Gothic-inspired allure. Other places worth seeing in Malmo are the Malmo synagogue, Ribersborg Beach, as well as the beautiful boardwalk situated at the Western Harbor, Daniaparken and Scaniaparken.
Malmo's vibrant student community, the amazing cafes and restaurants, and ultimately the architectural attractions make this city a must-see. The Scandinavian region has a wealth of cities to enjoy a soothing travel experience; however, unlike any other metropolis in Northern Europe, Malmo is unique. This dynamic urban center is an excellent holiday spot for young travelers fond of the hustle and bustle of this place. Are you the adventurous type of vacationer?
About the author: Peter Smith is a travelling freak who has travelled many destinations around the world. He also loves writing about his traveling experiences and the places he has explored. He writes for the Baltic Travel Company which is Specialists in Nordic, Scandinavian, Baltic and Eastern European Holidays.