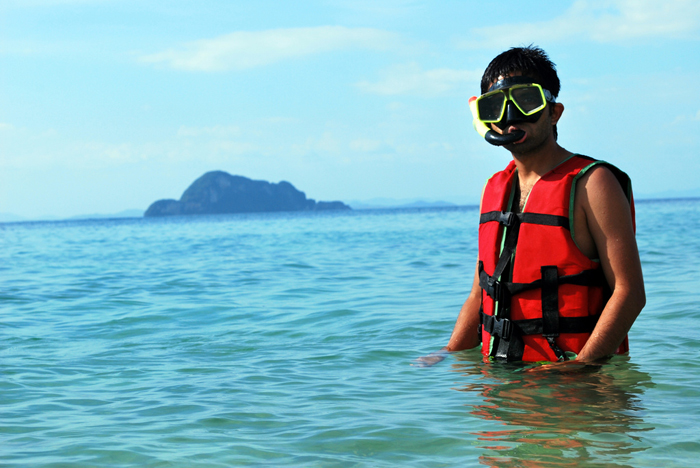 On the eastern coast of the Gulf of Thailand and 100 kilometers south of Bangkok lies the city of Pattaya. It is one of the world's foremost snorkeling and scuba diving hubs. It has gained this distinction due in part to Thailand's accessibility to foreign travelers and the comparatively low costs for snorkel and scuba training. The coast of the Gulf of Thailand is composed of overtly tourist oriented cities, but that non-stop action is nicely offset by some of the most beautiful dive sites you can readily visit. The better beaches for snorkeling and diving are on the islands just off the coast of Pattaya. There are plenty of dive schools and ferries on mainland Pattaya waiting to whisk you away to one of these spectacular dives.
Koh Phai
Nicknamed Bamboo Island, Koh Phai is picturesque on land and underwater, where you'll find an artificial reef teeming with seahorses, thorny sea urchins, pink anemone fish and various crabs. The dive sites around Koh Phai are shallow and thus great for beginners. Koh Phai is uninhabited and there is no camping allowed, only day trips are available. The island is about 23 kilometers and a two hour boat ride from mainland Pattaya.
Koh Lan
Ko Lan, or Coral Island, is just six kilometers off the coast of Pattaya and boasts multiple scuba diving sites and snorkeling beaches that offer an astounding variety of marine life. Golden Bay on the west side has a pristine beach for snorkeling where you can see blue spotted rays, turtles and parrotfish. Laem Tong to the northwest has a great dive site featuring large coral heads and groupings, and a reef that leads to an 18 meter drop where a wonderland of marine life becomes visible. Ko Lan has its share of hotels and bars but the locals keep it clean. It is about an hour boat ride from Pattaya.
Ko Krok
Ko Krok is a private and uninhabited island with one pristine beach and a great ecology for snorkeling. Jet-skis are not allowed near the island as not to disturb the waters, and it has been the focus of a government supported project to encourage coral growth. It is the highlight of new environmental policies that had been sorely lacking in Pattaya and Thailand overall. Single day excursions to the island come at a higher cost, but the sensation of serenity that permeates Ko Krok is priceless.
Ko Rin
Ko Rin is heavily regarded as the premiere snorkeling and scuba diving spot in the Gulf of Thailand. With undisturbed waters and astonishing visibility, Ko Rin benefits greatly from being one of Pattaya's more remote islands. There are a couple of rocky outcroppings that are difficult to maneuver but offer a variety of soft and hard coral budding with aquatic life of lush colors. There are many spots around the island where you can easily spot huge multicolored emperor angel fish, chevron barracudas and the curious butterfly fish. The vastness of marine life around Ko Rin is something that has to be seen to be understood.
Pattaya enjoys a tropical climate that's hot and humid year-round and averages from 27 to 31 degrees Celsius with an average water temperature of 24 degrees Celsius. It's best to avoid the rainy months from September through November, the fall monsoons greatly reduces visibility in the water. Book your accommodations in advance if you plan to visit from December to March, in July or August as these months see a peak in tourism. The ecological situation in Pattaya is improving greatly and the marine life in their reefs is flourishing.
With so many scuba diving places available in Pattaya, there's no shortage of choosing the best places to scuba or snorkel during your vacation. To help you start out on your journey, there are many exclusive rooms in Pattaya for you to book and most importantly, most accommodations are not too far away from the beaches and piers.
Photo by Harsha K R on Flickr