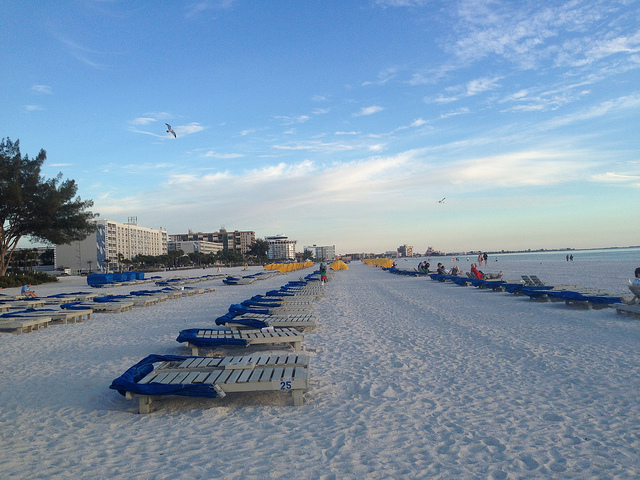 Photo by Marc Smith on Flickr

Beautiful white sand, sub-tropical water and amazing sunsets. This is what you will find at St. Pete Beach, one of Florida's most famous beaches, and known as a laid-back tourist destination. This part of Florida receives an abundance of sunshine all year round, making it perfect for lazing on the beach, but there are also plenty of fun activities to keep you occupied between beach visits. Historic museums, great shopping, amazing dining, and even wildlife tours are on offer. Plus, don't miss the amazing Florida sunsets that can be seen from the shore. St. Pete Beach is also close to Tampa and all of the attractions of Orlando, making it a great base for exploring some of the best attractions in the state.
St. Pete Beach has a great range of accommodation, and one of the best options is to stay in one of its excellent boutique hotels. Here are some of the best boutique hotels in St. Pete Beach:
Dolphin Beach Resort
The Dolphin Beach Resort is a great family friendly hotel and one of the most affordable beachfront hotels in St. Pete Beach. It has plenty of amenities, including a pool, plus direct beach access. This is great value as you get amazing views for an affordable price.
Beachcomber Beach Resort
Another great family option, but also perfect for couples, the Beachcomber Beach Resort is a great choice in St. Pete Beach. The hotel has a pool set among tropical gardens, and it is also known for its restaurant and bar that have great views of the beach and gardens.
Alden Suites – A Beachfront Resort
For a beachfront option, it is hard to beat Alden Suites – A Beachfront Resort. All rooms have amazing views of the beach and the beautiful waters of the Gulf of Mexico. Watch the sunset right from your balcony! The hotel also has a great restaurant and bar, plus a gym and Jacuzzi to enjoy.
Tradewinds Island Grand
If you're after a bit of luxury in St. Pete Beach, head to Tradewinds Island Grand. Situated right on the beach, the rooms have those special details that just say "luxury," and you can also find more great views of the beach and ocean. There are seven pools in the resort to try out, plus a spa and salon if you're after some pampering.
Sirata Beach Resort
The Sirata Beach Resort is a fantastic mid-range option with a good range of facilities. There are several room choices to suit your situation, whether you're vacationing by yourself, as a couple or as a family, and it's in an excellent sport to enjoy all that St. Pete Beach has to offer. The resort features three beachfront swimming pools, direct beach access with lots of activities on offer, and two amazing beachfront bars to visit.
Photo by Kurt on Flickr
Whatever your budget or requirements during your vacation to St. Pete Beach, you will not have a problem finding a hotel to suit you.