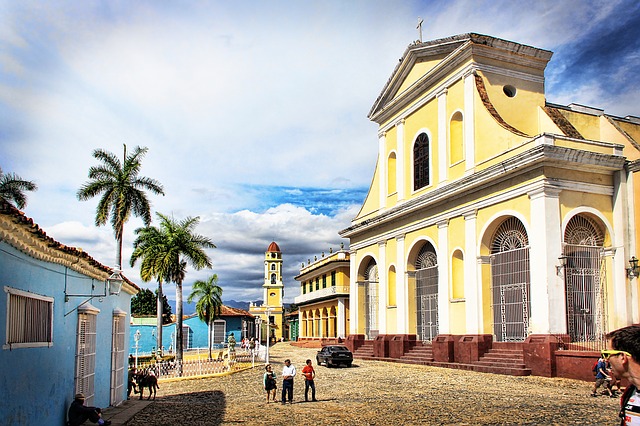 White sandy beaches, turquoise Caribbean waters, beautifully preserved colonial architecture and a culture unlike any other: This is Cuba. Being the largest island in the Caribbean, you may think of Cuba as a tropical beach paradise – which is undoubtedly true – but the country has a lot more to offer travelers as well, and this can be found within Cuba's charming towns and cities and within the culture that defines the country. All of this makes Cuba an interesting and diverse country to visit. If you want to make the most of your trip to Cuba, here are 10 places that you shouldn't miss.
Old Havana
Most international flights to Cuba arrive in its capital, Havana, and so this makes a great place to start your trip and to get a taste of the Cuban culture. Havana is a colorful and lively city full of interesting districts, museums and other attractions to check out, but the Habana Vieja, Havana's old town, is the best place to start. Old Havana just oozes colonial charm, with cobblestone streets and over 1000 well preserved colonial buildings and plazas. This is one of the best historic colonial complexes in the Americas and you will feel like you have gone back in time. Explore the museums, cathedrals and old buildings, and get lost wandering around its cobblestone streets.
The Malecón
The Malecón is a lively and upbeat part of Havana where you can wander along the seawall and listen to the waves. It's a great place to go for a few drinks (try some Cuban rum) and to people watch. The Malecón is popular with locals who wander down to relax, listen to some live music, eat, drink and socialize.
Morro Castle
Locally known as Castillo del Morro or El Morro, this 16th century Spanish fort guards the entrance to Havana Harbour. The fort is still in great shape and is well worth checking out while you're in Havana. As a bonus, if you head here in the late afternoon you can enjoy some amazing sunsets.
Varadero
Varadero is one of Cuba's premier beach destinations as it is known for its beautiful stretch of white sand, clear warm waters and its proximity to Havana. There are lots of beaches that you can explore as day trips from Havana, but this would have to be the number one beach to head to.
Trinidad
Trinidad is one of the most picturesque cities in Cuba. It was founded in 1514 but gained its importance in the 17th and 18th centuries due to the local sugarcane industry and also as a slave trading center. This allowed for many wealthy people to live here who constructed beautiful mansions and homes, which you can still view today. The town has changed little since then and walking along Trinidad's cobblestone streets feels like you have stepped back to the 1700′s.
Valle de Vinales
For a taste of rural Cuba, head to Valle de Vinales in the mountains west of Havana. Here, you'll find incredibly beautiful mountain scenery, tropical forest, tobacco plantations and interesting villages. One of the best ways to explore the area is on horseback!
Santiago de Cuba
Santiago is Cuba's second largest city and is known as the music capital of the country. The city kind of has its own unique vibe going on as it is more of an African influenced city. Music is at its heart and it is the best place to go in all of Cuba to experience the country's best musicians and festivals. A great time of year to visit is during Carnival when Santiago truly comes to life.
Cayo Largo
If you want that picture perfect postcard of a beach destination in Cuba, it would have to be Cayo Largo. This small island off the southern coast has some of Cuba's most pristine beaches and resort facilities. Possibly the best beach of them all is Playa Paraiso, which truly fits that tropical beach paradise picture. Another wonderful and unique thing to experience in Cayo Largo is the sea turtle hatchery.
Pico Turquino
If you love hiking, trek to the top of Pico Turquino, Cuba's highest mountain at 1974 meters. You will be hiking through lush tropical rainforest among spectacular mountain scenery in the heart of the island.
Baracoa
For a more out of the way destination in Cuba, head to Baracoa, an interesting town situated in a broad, picturesque bay surrounded by mountains. Getting to the town is one of the best parts as the road is one of the most scenic routes in the country. Baracoa was actually the first settlement in Cuba and locals believe that this is the spot where Columbus first landed in 1492. The region is well known for its cacao and chocolate production, and who doesn't love chocolate?
As you can see, there is an amazing assortment of things to do in Cuba, and this is just a taste of what is on offer. I could probably easily write a list of 100 places to see! If you're wondering how to go about organizing a trip to this interesting country, a group tour to Cuba is the best way to get around. Now, it is time to pack your suitcase and head off to experience the magic of Cuba!