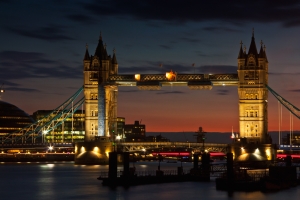 A trip to London is incomplete without a visit to the romantic spots of this historic city if you are planning to go with your beloved. London is home to some of the most romantic spots in London. Go through this list of 10 most romantic places in London to show your love in style:
1.       Portobello Hotel in Notting Hill
This is one of the jazziest hotels in the city. This is an eccentric townhouse is in West London and brags its Moroccan inspired Room 16  famous for antique bath and circular bed. The Room 16 at this hotel has four-poster bed from Hampton Court Palace. Order breakfast in bed before you leave to explore Portobello Market nearby.
2.       Julie's Restaurant and Champagne Bar in Holland Park
This is one such sight that always makes its place in romantic spot list and for good reasons too. Although it is not a club, one feels like a private club in this 40 years old place. Indulge in eclectic mix of church pews, twinkling lights, curtained private rooms and velvet sofas.
3.       Afternoon Tea at The Ritz
Enjoy your afternoon tea in ambience adorned with silver service sparkling on the tables and ceiling with gold leaf glitters. With formal dress code, this is a wonderful place to have a romantic evening in style.
4.       Boating on Serpentine Lake
A favourite summer activity, boating on Serpentine Lake is a fun as well as charm for two of you. After the row, you can order your cappuccinos at Lido Cafe Bar on the grass and on striped park deck chairs and watch the world go by. This is one of the loveliest experiences in London for couples.
5.       Stables Bar, Milestone Hotel in  Kensington
A few can be here at cosy tartan clad lounge apart from the very important bartender called Markus. This is a polo themed where you can relish a perfect chilled glass of Chablis along with tidbits.
6.       Drink at The Dove in Hammersmith
This is a terribly picturesque pub in historic location and has been hosting drinkers since 17th century. This is the smallest bar room according to Guinness Book of World Records, with just 2 seats and you can secure the same for you and your beloved.
7.       Spin on the Wheel on the Thames
You will not do justice to your London travel if you do not visit London Eye. Book your private capsule to have a ride on this world renowned Ferris Wheel. Have a glass of Pommery Brut Royal Champagne in your hand or take Cupid's capsule package at twilight that will include a bottle of bubbly and Charbonnel et Walker pink champagne truffles whole London is beneath your feet.
With these attractive and romantic spots in London, you are sure to depict that special love to your darling.
About the Author: Sonam writes travel articles and shares travel advice on various websites, Londonhotels4u.com blog being one.