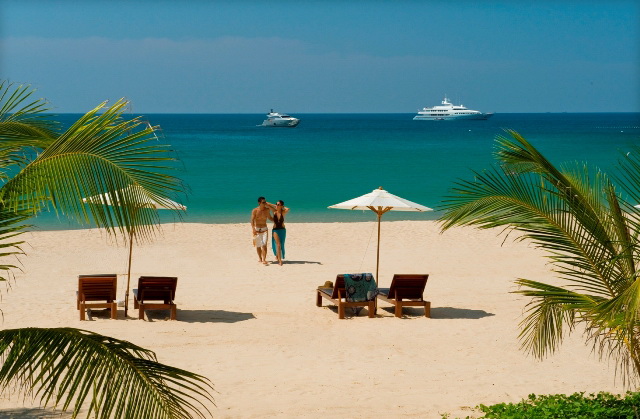 Thailand is a great choice for those of you who want to take an exotic vacation on a budget. Hundreds and thousands of tourists visit Thailand throughout the year but the best time to travel here would be between November and February. However, for those of you who do not like the crowd and want to spend some alone time here, the time between April and October would be best suited. People go to Thailand for its rich culture, hospitality and most importantly the beautiful and breathtaking beaches. While visiting here during the peak season can be quite exhilarating, it can get a little too tiresome and too crowded. If you still want to enjoy the sun in Thailand and not be too bothered about people and the crowd, Thailand has some beautiful beaches that have not been so much discovered by everyone. Here is a list of the secret beaches of Thailand that you can enjoy when you want a vacation where you do not want to be in a crowd.
Ko Lao Liang
Located in southern Thailand, Ko Lao Liang conundrum of beauty that is not visited by many tourists because most of them are only aware about the Krabi province located to the north of the island. This secret beach has not been discovered by non-Thai tourists yet but if you go there you will find a beautiful white-sand beach surrounding magnificent limestone cliffs and the gentle waves of the sea splashing against the walls and the beautiful formation of the corals are visible from the clear waters.
Nai Harn Beach
This one is another beautiful beach in isolation. It is still undiscovered by many tourists and is located on Thailand's Andaman coast. If you are looking for a relaxing vacation, away from the hustle bustle of people, then this is the perfect place to hide among the forested shore. You can enjoy some snorkeling by traveling just a little distance to the Ao Sane beach.
Railay Beach
Just 15 minutes by boat from the beach town of Ao Nang, this limestone karst jutting beach is an ideal location for the isolated hearts. If you do not mind the slanting limestone karst on the beach, you might as well enjoy sun on your back while you watch the clear waters of the sea gently swishing by.
Passport and Visa Requirements
The best thing about Thailand is that it is accessible from all parts of the world. If you are an international traveler, you just need to get your paper works straight. Have your passport in place and your visa too. You will need a passport that is valid for at least six months. However, all nations are not required to have a Visa though if you are going to stay for up to 30 days and are traveling via an international airport. You can find information on the passport as well as visa requirements to visit Thailand on the government websites. In addition you will also find information on the cost of getting the documents ready as well. So, get your paper works in place and enjoy a truly awesome vacation in Thailand's secret beaches.