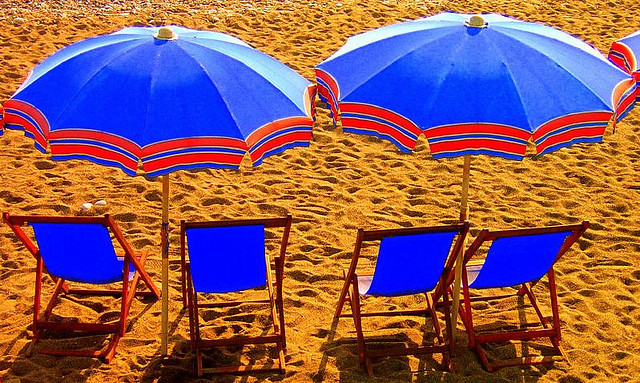 I first visited Rimini around 15 years ago when I was just a little girl, but last year I visited this city again and I discovered a completely different place. I would like to tell you 3 good reasons why you should visit Rimini, but first of all I also suggest you visit the new www.riminibeach.it - a great tool to organize your holidays in this area.
1. History, Culture and Monuments
Rimini is not only the city of beaches, nightclubs and drinks.
You can discover that the city has an important and ancient history. Rimini was founded by the Romans in 268 B.C. and the roman emperors constructed many building still visible in the city. In Largo Giulio Cesare Street you will find the 'Arco Trionfale di Augusto' which is the oldest roman arch preserved in the north of Italy. This arch was started in the 27 B.C. and it was an important point in the city since it was located at the end of 'via Flaminia' a road that connected Rome with Rimini.
Another important construction made by the ancient romans is 'Ponte Tiberio', a bridge started during the era of Augusto and completed during Tiberio that had the purpose to connect the center of Rimini with Borgo San Giuliano. What really surprised me is that after almost 2.000 years the bridge is still used daily by cars and bicycles.
During the Renaissance was dominating in Rimini an important Italian family, the Malatesta, and during this period others impressive monuments were built. For example, today the most important church in Rimini is The 'Tempio Malatestiano' known as 'Duomo di Rimini' built by Sigismondo Pandolfo Malatesta in order to preserves the memories of his family. I really suggest you to visit inside the church in order to see the crucifix of Giotto and the decoration that always Giotto made. Another inheritance from the period of the Malatesta is the 'Castel Sismondo' built by the Malatesta in order to have a stronghold in the city.
Others monuments that you should visit are the Domus del Chirurgo, Anfiteatro Romano, Chiesa Sant'agostino, Chiesa di Santa Maria Ausiliatrice, Palazzo dell'Arengo, Piazza Tre Martiri, Rocca Malatestiana and Chiesa di San Giuliano Martire.
2. Beach
When I went to the beach of Rimini I felt like entering in another 'city' inside the city, is like to enter in another world with everything you need. You can find many beach resorts from Torre Pedrera to Miramare. Some beach resort are perfect for families with children since they offer many services like baby-sitting, entertainment for children and baby park with many games. If you are young and you love to stay active during the summer you will find many sport area, gymnasium and areas where you can receive assistance for your health.
3. Food
When you go to Italy you get to experience delicious food as never before. You must try the homemade 'pasta' that is a very typical of this area. Even vine, oil and cheese are all prepared with products of the hill and land of Rimini.