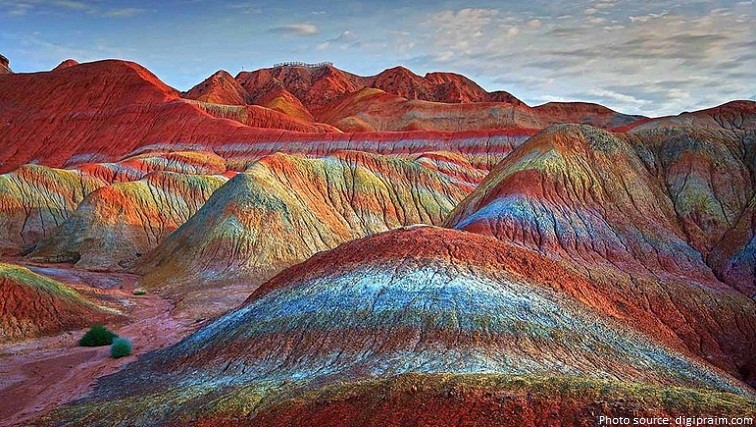 If you've wandered the Louvre, stared up at Big Ben, cruised along the Italian Riviera, and sailed past Lady Liberty, you might be looking for something a little different on your next holiday. Or, you could just be keen to bypass the tourist crowds and head somewhere a bit more unusual this year.
Whatever your motivation, the world is filled with incredible sights and attractions. The problem is that most of us only experience a tiny handful because we never step out of our comfort zone. So, it could be time to make 2017 a year of adventure; an opportunity to visit some of the global wonders which sit 'off the beaten track.'
There are plenty of easily accessible travel loans which can help you make it there, so there's really no time like the present.
Zhangye Danxia Landform, China
You won't see a sight like this anywhere else in the world. The Zhangye Danxia Landform is an incredible landscape of brightly coloured rocks. The unusual formation is thought to have been caused by mineral deposits created millions of years ago. If you ever find yourself in this part of China, it is definitely worth a trip to the Gansu Geological Park to see it.
Door to Hell, Turkmenistan
While it doesn't sound like a lot of fun, the so called 'Door to Hell' is a geographical wonder. It is a giant volcano hole which has been burning for more than forty years. People flock from all around the world to see its bubbling, fiery craters. The hole, also known as the Darvaza Gas Crater, has a diameter of seventy metres and its furious glow can be seen for miles.
Keukenhof Gardens, Holland
Holland has a lot to offer travellers, despite its quiet reputation. The historic Keukenhof Park should be top of your itinerary, but you've got to visit in the spring. This is when the most spectacular display of tulips in the world blooms into life. You can't know the true beauty of flowers until you've seen them blanket an entire landscape in yellow, orange, pink, and purple.
Fingal's Cave, Scotland
True adventurers know that you don't need soaring temperatures to make memories. Even so, you've got to be pretty hardy to take on the Scottish weather. It is worth it to experience sights like Fingal's Cave. These giant basalt columns are similar to the Giant's Causeway in Ireland. In early summer, you can poke around inside the uninhabited island of Staffa.
Horsetail Fall, USA
Each year, for a few weeks in February, Horsetail Fall mysteriously turns into a river of lava. Well, not really. The light hits the top of the rocks and turns the surrounding ground and water into a bed of vibrant orange and red tones. This has the effect of turning it into 'lava.' Tourists from overseas and across the States travel to catch a glimpse of this eye catching phenomena.
Fly Geyser, Nevada
If you're keen to head to the States, you might want to read about Fly Geyser. This is a man-made, geothermal phenomena which spews boiling water five feet into the air. While geysers are, themselves, not so unusual, this one has a cool secret. It is filled with thermophilic algae, which turn brilliant red and green colours in time with the water.
Why Applying for a Travel Loan Is Easier Than You Think
Many people believe that you should save your own money for holidays. However, taking out a travel loan is no harder than applying for vehicle or personal credit. It also gives you access to something just as important; the freedom to experience and enjoy the world. What's more – with a practical, affordable repayment plan, it's easy to settle the debt once you get home.