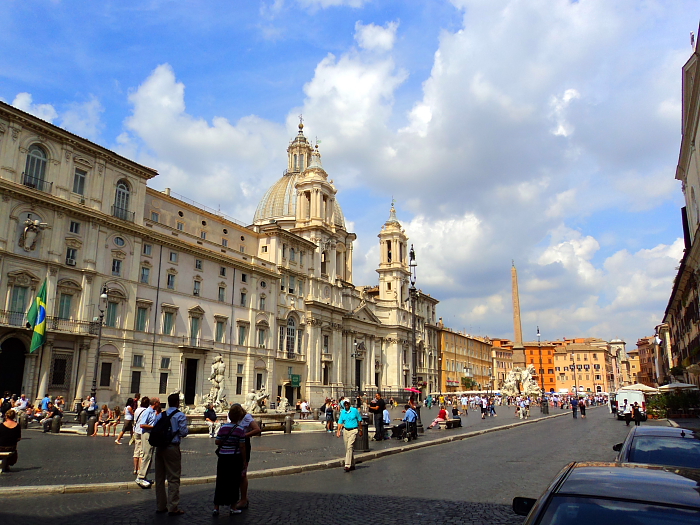 Some of the most impressive attractions in Rome are it's beautiful piazzas. Piazza Navona stands in the place of the ancient Roman Stadium of Domitian and you can see that the piazza has kept the long shape of the original building. What you can see of Piazza Navona today dates back to the 17th century, and  it has some excellent examples of the art and architecture from that time.
The piazza has three beautiful fountains in the middle, with the 17th century church of Sant'Agnese in Agone dominating the buildings surrounding it.
Located in the middle of the piazza is the Fontana de Quattro Fiumi (Fountain of the Four Rivers). Designed by Bernini, the fountain is meant to represent four rivers from four continents – The Nile, Danube, Ganges and Plate Rivers.
Sitting on top of the fountain is a huge 1st century Egyptian obelisk that rises high up over the piazza.
There are two smaller 16th century fountains at each end of Piazza Navona. At the Northern end is the Fontana del Nettuno (Fountain of Neptune), characterized by it's statue of Neptune, and at the Southern end is the Fontana del Moro (Moor Fountain) which is characterized by it's four Triton sculptures.
Alfresco style cafes sit along the edge of Piazza Navona while musicians and street performers often play and act in the center. You can simply sit with a cappuccino or a glass of wine and look out at the fountains and church, while listening to classical Italian music. There is nothing better than enjoying the culture of Italy.
If you're traveling to Rome, Piazza Navona is a must see!