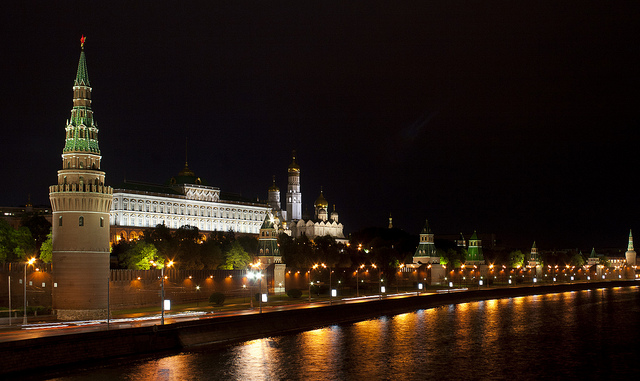 Moscow is a hip and historical city that has a great mix of adventurous urbanites and intellectuals alike.  It's the ideal destination to live like a local instead of a tourist, so if you're planning to visit Moscow this summer, why not consider a variety of attractions, cafés and extreme sports?
Art, Fashion and Culture
Known as Moscow's meatpacking district, Winzavod was a factory long ago. Over the years it's evolved into a hip spot where you'll find a series of galleries and high concept studios like Cara & Co. which features Belgian and Australian designer couture, a café and a nice houseware range.  Its rich art and fashion culture draw many celebrities as well as fashion personalities.  You can get there by taking the ring line or the brown line on the metro straight to Kurskaya.
You can go shopping along the Red square at two of Moscow's largest malls, Gum and Tsum.  They both house designer boutiques and the stunning architecture and lighting is an attraction alone.  Movie buffs can enjoy a film at Moscow's tallest cinema, 35MM located at the Garden Ring and Pokrovka Ulitsa.
Nightclubs and Cafés
Moscow is known for its nightlife and is home to some of the most high-end nightclubs in the world.  Krysha Mira is one of the trendiest nightclubs I visited since they play some great electronic music and there are performers breathing fire.  The rooftop deck looks over the Moscow River, the Stalin-era Ukrainia Hotel and the White House.  Check out other lounges such as Propaganda, Strelka Bar and Domebar for a more chilled out evening.
Tucked away near Pushkin Square you'll find the 24-hour Café Pushkin, along Bulvar Street.  It was designed to look like a Russian Aristocrat's home circa 1825, and today, it's a hip and modern place to hang out, enjoy coffee and play chess.  The easiest way to reach Pushkin Square is to take the metro's purple line to Pushkinskaya Ploshchad and walk down the Bulvar, where you'll find a French Russian restaurant called Jean-Jacques.
Other quality restaurants include Mayak, Solyanka Club and Kvartira 44 where you'll get great food and see high society Russian socialites.  Fast food and popular canteen-style places such as Mu-Mu, Elki Palki, FAQ café and PR OGI offer a variety of traditional specialties like beetroot soup borscht, shashliks or pelmeni.  You can hop on the metro's blue line and get off at either Arbatskaya or Smolenskaya where you can enjoy a chicken and pineapple salad at Mu-Mu.  They have a range of items including starters, mains and soups and you can enjoy a meal for about 250 roubles (7 euros).
Adventure Sports
Why not experience larger-than-life thrills aboard a Parabola Boeing 727?  It's more than just an attraction – get on the zero gravity flight to feel what it's like to be completely weightless.  The pilot performs a series of special manoeuvres that tilt the aircraft at the 45 degree angle for passengers to experience zero gravity.  You're all set to go once you book your easyJet flight to Moscow  since most zero gravity packages take care of the rest including hotel transfer, training, medical examination, photos and video of your flight.
If you're an adrenaline junkie, you can go the extra mile and actually jump out of the plane – several sky diving sites take groups of daredevils to jump from 14000ft.  Other extreme sports include ice diving, base jumping, river rafting, snowboarding and aerobatic tours.
About the Author: Amna Alam is a London-based freelance writer who enjoys travelling around the world and experience different cultures. 
Photo by Pavel "KoraxDC" Kazachkov on Flickr