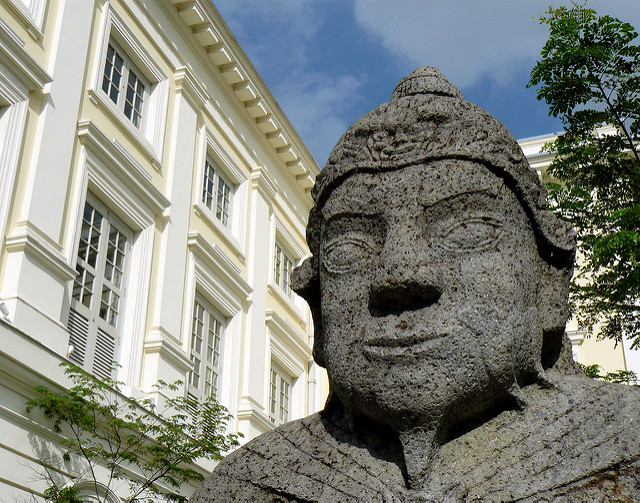 Singapore is well-known as a big, modern city full of shiny skyscrapers, wealthy businessmen, lots of technology, and super clean streets. It's a busy and exciting city with an interesting array of modern attractions; but beneath its shiny exterior, Singapore also has a historic side to it. Below the skyscrapers and modern design, you will find interesting little neighborhoods with old buildings, markets, and amazing museums to explore. Stay in a downtown Singapore hotel to be in close proximity to these historic sites. If you're a history buff, Singapore has more to offer than you might think. Here are some of the best historic sites to check out in Singapore.
Colonial District
Photo by Martin Hapl on Flickr
The colonial district in Singapore is a great place to start your historic journey in the city. The area is home to several beautiful, old, British Colonial buildings, including mansions and interesting museums. It is here that you will get a taste of Singapore's colonial past.
Chinatown
Photo by Fabio Achilli on Flickr
No holiday to Singapore would be complete without a visit to Chinatown. Chinese immigrants and merchants play an important role in Singapore's history, and all of this heritage can be explored in Chinatown — one of Singapore's most lively and iconic neighborhoods. Walking through the streets of Chinatown, you will be treated to beautiful, old shop fronts, boutique shopping, historic temples, and amazing food. At night, the streets are lit by Chinese lanterns and the dining is exquisite, from hawker stalls to amazing restaurants.
Clarke Quay
Photo by Jeffery Wong on Flickr
Clarke Quay is another colorful and lively historic area in Singapore. Situated on the waterfront, Clarke Quay was the center of commerce in the 1800s, and many of its buildings are beautifully preserved, serving today as a wonderful dining and entertainment precinct.
Fort Canning
This 19th century fort is another important piece of Singapore's history. Built in 1865, Fort Canning was the center of Singapore's defense in the Colonial Era. Today, it serves more as a museum and cultural center, and the surrounding parklands are popular for walks and picnics.
Asian Civilizations Museum
Photo by yeowatzup on Flickr
Another wonderful museum to check out in Singapore is the Asian Civilizations Museum. The museum is housed in another beautiful, old 19th century colonial building, so even if you aren't interested in ancient history, it is worth checking out for the architecture alone.
Little India
Indian immigrants also played an important role in Singapore's history and development as a city, and Little India is another diverse and historic neighborhood in Singapore. Sample incredible Indian cuisine, mingle with the locals, shop for traditional Indian items at one of the local vendors, and visit a Hindu temple for a real taste of India.
Botanic Gardens
You may not consider parklands to be a historic site, but Singapore's Botanic Gardens have been around since 1865 and are recognized as a UNESCO World Heritage Site. The gardens play an important role as a green space in Singapore, and it is a great place to escape the hustle and bustle of the city.
These are just a few of the interesting sites on offer to give you a taste of Singapore's rich history.