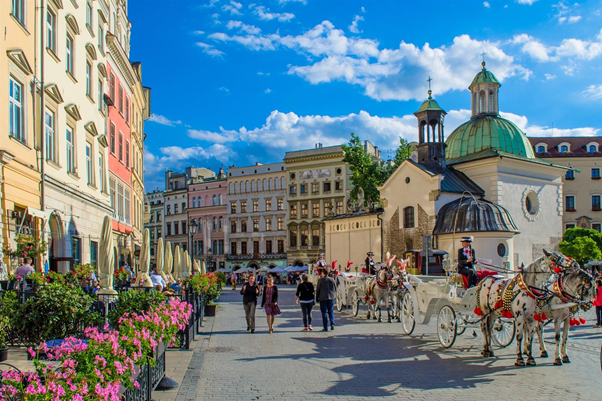 No one likes having to spend more than they should on anything, so why should your hen or stag weekend be any different? True, you want it to be a weekend to remember, but all of that can be achieved with a budget! When it comes to flying to Europe for your final days of freedom, your best bet is to take advantage of the great deals and cheap European destinations for hen and stag dos.
Prague
Prague is and always will be one of the most popular destinations in Europe for last nights of freedom, and not solely for its amazing activities and spectacular sights. The capital city of the Czech Republic is known for its affordable prices and beer that is as cheap as chips. Regardless of your budget, this city is one that can give you a good bang for your buck. From go karting and pub crawls to nude drawing lessons and spirit tasting sessions, there is something here for everyone. If you're looking for somewhere you can let loose and have some real fun, Prague is the place to be.
Krakow
A hen/stag do in Krakow is unlike any other. It is one of the most popular European spots for those looking to have a good time on a small budget. For those seeking a hardcore hen or stag weekend in Poland, look no further than Krakow! With both daytime and night time activities to add some adventure to your weekend, this charming city will make the most of your last nights of freedom. You won't struggle to find a decent bar, pub or club in the city centre, so you'll be in for an incredible weekend. All thanks to being as cheap as chips, Krakow is one of the most visited cities in the world.
Bucharest
Popular with any type of hen/stag do, Bucharest is famous for its cheap flights and even cheaper booze. Known as the Paris of the East, this Romanian city is perfect for a relaxed hen do with the girls. With so much to do and so much to see, you won't need to worry about being sitting ducks on your epic weekend. You won't believe how affordable Bucharest is, what with the great assortment of activities to get stuck into. Whether you're in the mood to party from dusk until dawn, tour around the city in a limousine, or indulge in some traditional Romanian cuisine, nothing beats a Bucharest hen/stag do.
Warsaw
Warsaw is known for being an affordable destination, so it's no wonder that it is such a popular European destination for hen and stag do weekends. With its iconic history and quaint little towns/villages, it's hard to believe how much fun you can have in Warsaw. These cities have everything you need for a weekend to end all weekends, so regardless of whether you are after urban grunge or big city glamour, Warsaw has it all. Flights here are pretty cheap too, so you can still celebrate in some serious style while on a small budget, and public transport can take you anywhere you fancy.
Barcelona
Spain is always on everyone's list when it comes to finding the perfect destination in Europe for their hen/stag weekend getaway. A sizzling bohemian paradise, Barcelona is the ultimate location for you and your friends to kick back and relax. Take advantage of this beautiful sunny destination on a catamaran trip across the sea, by jet skiing like James Bond, or relax on a luxury yacht cruise. Wine tasting sessions in Barcelona are a must, and why not pair it with a delicious tapas tour and fiesta? The Spanish city is ideal if you fancy something cheap and cheerful on your hen/stag.
You'll no doubt want to go all out on your hen/stag weekend, but don't let a budget get in the way! There are tons of awesome destinations in Europe that make for a cheap getaway to remember, so be sure to shop around before settling on that perfect location.