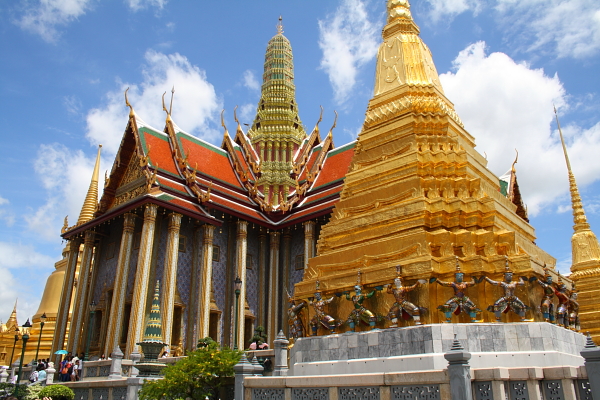 What is Bangkok? What is the allure about Thailand's capital city that captivates people from around the world to travel to the Kingdom? Bangkok is a city home to more than eleven million people, living n tall condominiums and small, but humble housing complexes. Bangkok is a place where Eastern traditions meets Western advancements, fused into a single city. For many people, Bangkok is a place where many people call home. Over the past twenty years, millions of tourists fly to Bangkok to experience the city's charming allure; temples, palaces, buildings, and more recently, luxury malls. In Bangkok, there are currently many on-going construction projects aimed at inviting people to experience Thailand's luxurious shopping scene. However, luxury shouldn't only apply only to shopping malls; there are in fact, a handful of luxurious things one can do in Bangkok for those with an unlimited budget.
If you're looking for an unforgettable (and memorable) vacation in Bangkok, here are some of the best things you can do.
Go Shopping at EmDistrict
EmDistrict is a new 'district' in Bangkok, geared towards attracting luxury shoppers from around the world. The district currently has three high-end luxury malls; EmQuartier, Central Embassy, and Emporium. Emporium, opened in 1997, was known as one of Bangkok's top shopping centers in the city, catered to the wealthy, respectively. Emporium exclusively has many brand name items from the West and sold in its stores. Last year, Emporium went through a face lift and was temporarily closed, hence, EmQuartier opened instead. EmQuartier is the place you want to be when shopping for luxury goods. EmQuartier is a massive shopping center by Phrom Phong BTS station, two stops away from Asoke BTS station from the famed Terminal 21. EmQuartier is a massive ovodial shape like building, home to many outstanding brand names such as Prada, Kate Spade, Louis Vuitton, Gucci, Jimmy Choo, Valentino, and more, found in the Glass Quartier section.
EmQuartier is divided into three sections; The Glass Quartier, Helix Quartier, Waterfall Quartier. The Glass Quartier is the place where one needs to fill up on their shopping needs. The Helix Quartier, dubbed as Bangkok's 'dining extravaganza' scene is the place to be when you want to try out the fifty plus international restaurants ranging from Thai, French, Chinese, Japanese, Mexican cuisine and more. Lastly, The Waterfall Quartier, is a moderately-sized waterfall within an atrium, perfect for camera enthusiasts and selfie shots.
Perhaps the best thing about shopping at luxurious places is the fact tourists can get a VAT Refund on their purchases. All they need to do is bring their receipts to the designated counter and you can get your VAT refunded.
Take a Sip at the Sky Bar at the Lebua
Should you feel like being suspended 820 feet in the air and sipping a cold glass of wine, the Sky Bar is one of the best places to go. This high-rise bar is one of Bangkok's top rooftop bars (figuratively and literally) and was used as a shooting location for the film, The Hangover Part II. The bar, over the years, received worldwide recognition because of its one-of-a-kind stunning view over Bangkok and the mixologist's ability to create tasteful cocktails in the heat of summer, best known as the Hangovertini. Close by, the stunning Sirocco restaurant welcomes guests for a delightful gastronomic experience, featuring a fusion of European and Asian cuisine made from the freshest ingredients by Chef Gonzalo Ruiz and his award-winning culinary team.
Stay at Dusit Thani Bangkok Hotel
For a personal touch of Thai elegance, the Dusit Thani Bangkok is the hotel you would want to be in for outstanding accommodation services. The Dusit Thani Bangkok hotel is the icon of luxury in Bangkok featuring well-appointed rooms and suites that feature distinctive Thai elements, showcasing Thailand's memorable aesthetics. Other than providing spacious and comfortable rooms, the hotel is well-recognized for its dining scene. The Benjarong restaurant is the hotel's leading Thai cuisine restaurant that combines the best modern techniques and traditional flavor to produce decadent dishes. Guests can choose either dine indoors or outdoors, within a peaceful and lush garden, a koi pond, and a waterfall.
Choosing to stay at the hotel will open up new luxurious opportunities, such as spending a day at the famed Devarana Spa. The spa presents guests with a handful of treatment options to relax, revitalize, and rejuvenate. Each massage session is performed by specialized masseuses, skilled in the art of Thai massage and rejuvenation techniques. Nonetheless, if you have time to spare, spend the rest of the day at the spa to feel brand new for the next day to come.
Go for a Bangkok Luxury Cruise
No visit to Bangkok is complete without partaking in a comfortable and relaxing evening on the Chao Phraya River on a distinguished cruise. The Mahnora Cruise operated by Anatara offers guests to dine on the cruise to try out twelve delicacies including tantalizing soup and spicy dish creations, marinated with rich, Thai herbs. The cruise offers two types of menu sets available; the Gold Menu and Silver Menu sets. The price for Gold Menu sets start at 2,500 baht per adult, 1,250 per child. The Silver Menu sets start at 1,750 baht per adult and 875 baht per child. However, keep in mind the prices per person are subjected to an additional 10% service charge and government tax. The cruise takes guests down the river to see exquisite Thai heritage sites such as Wat Arun Ratchawararam Ratchaworamahawihan, or better known as The Temple of Dawn. The temple illuminates at night and it is very beautiful to see the temple shine and glimmer. It is truly a beautiful sight to behold.
When traveling to Bangkok to indulge in a luxurious and spoil-free vacation, these are some of the best things to do. Whether it's cruising down Thailand's famed River, dining under the stars, or relaxing in an distinguished hotel, your vacation and experience will be nothing short of extravagant, classy, and ultimately, memorable in the world famous, City of Angels.