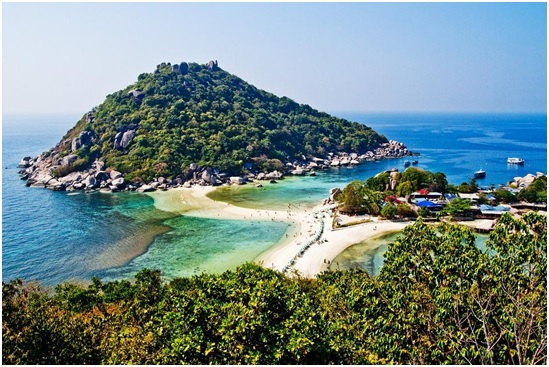 Koh Tao is a small island off the Central Gulf Coast of Thailand. Although it isn't as well known as some of the other islands in the area (eg. Koh Samui, Koh Phi Phi or Koh Phangan), this isn't due to any lack in Koh Tao. In fact, there are plenty of people who come to Koh Tao for just a short break and end up never leaving. Just what is it about this small island that's magical enough to keep people there? Well, it's both beautiful and one of the most perfect dive spots in the world.
Here are seven reasons it should top your list of dream destinations:
1. It's easy to get to.
Thailand itself is easy to get to, Bangkok being one of the main travel hubs in Southeast Asia. From Bangkok, you have a couple options. You can either fly from Bangkok to one of the smaller airports in southern Thailand (Chumphon or Suratthani) and take a ferry from there, or you can take the bus and ferry route from Bangkok. You can do the latter overnight to save yourself a day. Although remember that you may not get the best night's sleep on the bus, so you may not want to lead from that directly into your first day of diving!
2. It's a cheap place to get your dive certification.
Simply put, getting your dive certification is cheaper in Koh Tao than it is in a lot of other places in the world, especially back home in North America or Europe. But that doesn't mean the quality suffers any. You'll still have a great time diving and can earn certification (in Koh Tau, usually PADI or SSI) to allow you to further your dive studies in other places in the world. You have plenty of companies to choose from as well, so you're free to pick one that feels comfortable for you and offers courses during the time you have available.
3. The beaches are stunning.
Koh Tao has some picture-perfect beaches that you'll love whether you're spending the day diving offshore or relaxing in the sun on your days off. With its white sands and turquoise water, you'll feel as if you've just stepped into a postcard. And because Koh Tao isn't as popular as some of the other islands, you'll find a lot less trash spoiling your views as well.
4. There's tons of sea life.
Even if you just wade out or go snorkeling around Koh Tao, you'll find plenty of exotic sea life swimming around with you. Here, you'll have the chance to view guppies and sharks and everything in between.
5. You can explore wrecks.
If you're doing even a little bit of diving, there are some excellent wrecks that you can explore around Koh Tao. These include everything from fishing boats to battleships, at a variety of depths. Between these and the variety of sea life, you definitely won't have a boring dive!
6. It fits any style of traveler.
Koh Tao is a bit quieter than some of the party islands in the area, such as Koh Samui or Koh Phangan. That said, there's plenty to do after dark, whether you're looking to hang out on a beach watching fire-spinners, check out a club or just kick back and relax at your accommodation. You'll also have plenty of choice for accommodation at a variety of price points—everything from backpacker hostels to beautiful and secluded bamboo huts.
7. It's well connected technologically but still feels remote.
Koh Tao offers you the perfect mix of isolation and connection. You can go days at a time out on the water and immersed in nature, but then you can go back to your accommodation, slap a Virtual Private Network (VPN) on your device, and stream Netflix for a relaxing night in (you'll need that VPN though to get around Netflix's geo-restrictions). This means you can still keep in touch with loved ones back home and share all the fun with them while still really unplugging and focusing on your diving—or your tan!
With its picturesque beaches and superb dive spots, Koh Tao is a vacation spot that really can't be missed.
Have you been there? Do you have any tips for readers who are planning a trip there? Tell us about them all below!