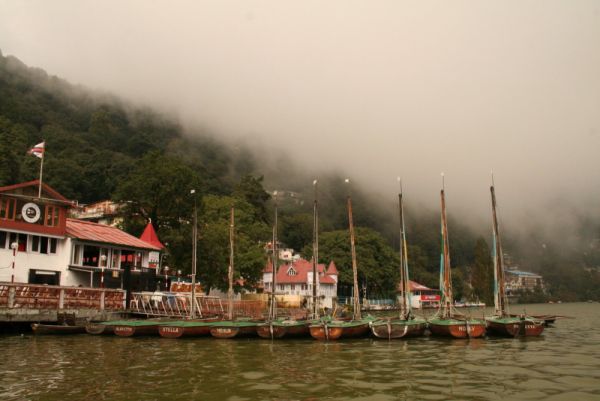 Bored and stressed with same routinely life and nothing exciting to look forward to, I've been having a hard time coping with reality of my life. Adventures are tough but routine is just lethal, that's what I understood after not having anything new to try. The frustration was getting the best of me and that is when I thought that I should go on a vacation. I mean, you do not always need a reason to escape to the mountains but I so wanted to get away from everything at that point of time.  We decided to take a break but the million dollar question was- what should be our destination, where could we escape from the everyday life? A friend came up with the name of Chakrata which, honestly I never heard before. He was sure that its just the perfect spot for us. Me and a bunch of friends after packing few clothes hired a cab and embarked to the hills of Chakrata.
Tucked away in the mountains of Uttarakhand, Chakrata is one of the lesser known hill stations and has suffered through the popularity of Kasauli and Chail. After about a night's drive, we reached  our destination early in the morning. Honestly, I was quite amazed by what I saw there. Surrounded by the green hills from all side, it is a tiny but immensely beautiful town. The lush greenery and the mist-covered mountains adds to the beauty of the place. After checking in the hotel and relaxing we decided to explore Chakrata. Impressed by its pristine surroundings and natural splendor we decided to take a stroll around the town. These lush green forests are perfect for long walks. Each and every scene was like a lovely painting. The well maintained roads, simple villages and friendly locals-all added to come up with this unique place.
Our first destination was Tiger Falls which is the most popular attraction near Chakrata. After a  trek of about 5 km, Tiger Falls is a lovely gushing waterfall in the midst of dense forests falling  from an altitude of about 50 m. An ideal picnic spot, Tiger Falls truly has an enchanting effect on its visitors. They can have fun playing in the ice-cold water and enjoy under the natural shower. After having a lot of fun under the waterfall we moved to Kanasar for lunch. It is a beautiful village at about one and half hour drive from Chakrata. The simple and friendly people from the village are hospitable and make you feel welcomed. After having food we decided to come back to hotel. The first day at Chakrata was perfect with fun amidst nature.
The next day we headed to a tiny village called Hanol situated on the left bank of River 'Tons' which was earlier known as River Tamas. It is believed to be the same place where the Pandavas  from the epic Mahabharata escaped from laksha graha. According to a belief, the water of River 'Tons' are actually the tears from the eyes of son of Arjun, one of the Pandavas brother.
We also visited 'Mahasur Devta' Temple which is located on the eastern bank of Tons River and attracts many tourists. Built in 9th century, the temple is dedicated to Lord Mahasur. Originally,  constructed in Huna architectural style, it has been renovated many times and acquired a mixed style.
After having a great time in Chakrata, it was time for us to say goodbye. It was an awesome trip where we literally lost ourselves on to the nature. It was time to go home and the memories we created there would always remain with me for the rest of my life.
So if you plan a trip to Chakrata hill station, make sure to visit one of these amazing hills in Uttarakhand. You will surely have a great time enjoying the breathtaking views and relaxing in the serenity of nature.