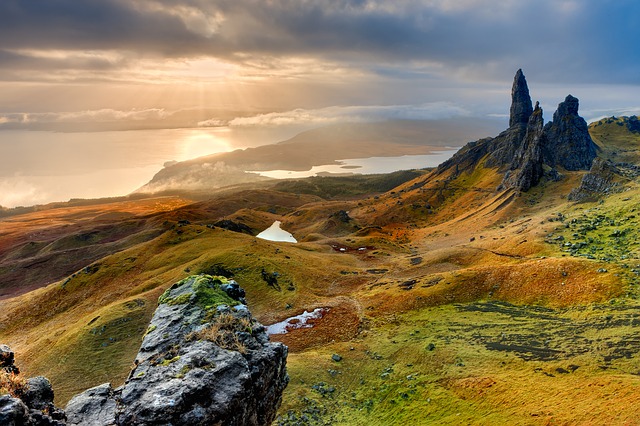 When you are ready for the trip of a lifetime, why not choose Scotland? This beautiful country is rich in history, beauty, and architecture that will surely pique your interest. When you do decide to stay in Scotland, you can look into some of the best luxury lodgings to be found.
This way you can enjoy the maximum amount of comfort after a long day of hiking, shopping, or touring the country. In this article, we are going to give you the low down on the best luxury lodges you can find, with plenty of amenities!
Lomond Luxury Lodges
You are in for a treat if you stay here! Located in the Loch Lomond and Trossachs National Park, these lodges are only 1 mile from the middle of town and just 2 miles from the Buchanan Castle. Travelers state that this lodging area is beautiful, comfortable and relaxing. They also state that it is close to many things like Balloch Country Park and the Loch Lomond Waterfront, as well as all of the national park.
The basic lodge accommodations include free Wi-Fi, parking, kitchen and hot tub for under or around 200 British pounds a night for 3 nights. You can get bigger packages that give you more amenities that include fireplaces, bigger lounge areas and a sauna for upwards of $300 per night. You are welcome to bring your own BBQ grill to cook with as well, but they do have a self-serve catering service, too.
Wine and chocolates are complimentary here, so don't be afraid to grab a glass and chunk of chocolate for dessert! Bring the kids if you like as there are 2 play areas at Lomond Luxury Lodges.
Balmeadowside Country Cottages and Lodges
Balmeadowside is a dog-friendly lodge that not only has 9 catering lodges that include hot tubs but it also has 4 tree lodges, too! Many of the cottages here have extra amenities that other lodges on the grounds do not. For example, some lodges have a wood burning stove, large beds and their own garden.
This place offers some great views, so don't forget your traveler charger so you can be ready to take photos of videos when you see how breathtaking the views can be here in Fife, Scotland. Don't forget, this is an area that is extremely animal-friendly, and they encourage you to bring your furry family. For those that do not want to interact with dogs, the Mountain Ash Lodge is the pet free area.
Prices here range from 569 pounds per week up to 1,155 pounds per week, depending on the accommodations and amenities that you would like to enjoy. Peek outside and see the working farm as well as all of the countrysides in Fife.
Great North Lodges Limited
Have you ever wanted to see the Scottish Highlands? Now is your chance! The Great North Lodges are luxury lodges that overlook the Scottish Highlands and you can see beautiful scenery all through Spey Valley, where the lodge is. this location is inside Cairngorms National Park. Here, you can feel free to explore!
While staying here can get a little pricey if you love the finer things in life, you can afford a smaller lodge for about 500 pounds per week, while the most expensive lodge estate can cost you nearly 4,000 pounds per week. However, all rentals included towels and clean bed linens.
Many of the more expensive lodges give you robes and slippers for the hot tubs, have wood burning stoves, and more. These lodges are pet-friendly but you do have to pay a 35-pound charge to bring your pet into any lodge, no matter the size.
Have a great time at Cairngorms National Park with the many cycling and hiking paths, the abundant wildlife, and the many scenic areas that are picturesque.
The Shaftesbury
If you are looking for some quaint and beautiful lodging, look no further. The Shaftesbury is incredibly relaxing, offers delicious breakfasts and is overall clean and offers a lot as far as history and sightseeing. This lodging area has many of the original Victorian features and is located in Dundee which is near not only the local hospital and university but the airport, railway station and many tourist attractions, which is great when you don't want to travel an hour to see something. You are literally minutes away from some of the history and scenic views.
The Shaftesbury offers spacious rooms with en-suite features as well as free Wi-Fi, close parking and more. You can walk to several amazing restaurants within minutes! Keep in mind, this place is only for grownups and does not state if they allow pets.
Prices range from 60 pounds to 115 pounds per night. The less costly rooms are the single en-suite, double en-suite and the twin en-suite, while the rooms with 3 beds are 115 pounds per night. Prices may change, however.
Scottish Holiday Lodges
This 5 stars rated lodging offers beautiful scenery on the same grounds of the Atholl Palace Hotel, where there are apartments and cottages available. You are a short walk to the town center as well as under 2 miles to the Pitlochry Golf Course. You get lodging for up to 4 bedrooms that include kitchens, television, balconies and wood burning stoves, among other amenities.
You are free to use the spa and pool as well as the putting green and tennis courts here. There is also a bar and restaurant for those who don't want to stray too far from the grounds. Feel free to bring the kids and explore the 48 acres that has a park for kids, BBQ areas and many gardens with ponds and trails for walking.
Call to inquire about pricing, as it is not found on their website, and you can book a 1 or 2 bedroom lodge, a 3 or 4 bedroom lodge as well as stay in the hunting lodge!
About the author: Rebecca is a USA writer and hiker at hikingmastery.com. Her favorite hike to date is the Everest Base Camp Trek in Nepal. While this hike usually takes 16 days, she likes to slow down, and enjoy the mountains and company of other adventurers, so it took her 28 days.