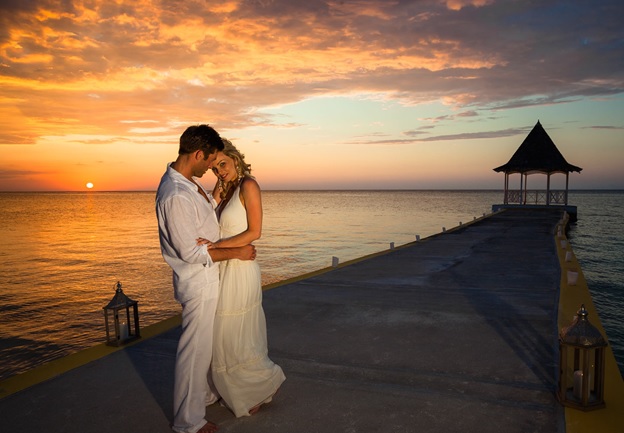 You've just tied the knot with the person you love. Close your eyes and imagine the moment. It's hard to visualize when you haven't experienced it, and amazing when it actually happens. You're probably thinking there is no feeling in the world that can top this. But that feeling can get better.
If you packed your bags and headed to an exotic honeymoon destination designed specifically for couples in love, you can top the feeling. What better way to start a life together than to experience something neither of you have before? It's a great way to begin your life together.
But you are an unusual couple, unusual in a good way. You have no business going to a run-of-the-mill honeymoon destination. You want to raise the bar. So, where should you go? Pack your bags. You are in for the trip of your life, and here's a few destinations that will absolutely blow your mind.
A Luxury Safari in Tanzania
A luxury safari allows you to experience the wonder of the African jungle in first-class accommodations. Imagine waking up in a luxury lodge in the Serengeti, a savanna grassland so expansive that an elephant in the horizon takes the shape of an ant.
Your views will be unobstructed, and there is nothing like experiencing sunrises and sunsets in the Serengeti.
Luxury safari lodges are located in the wild but some of them offer more comforts than even a New York City luxury hotel. You will be able to take your breakfast with big game animals you've only seen on National Geographic keeping you company. Game drives usually take place from dawn till around noon.
Tanzania also offers some pretty amazing beach destinations. Many safari packages usually include beach holidays to Zanzibar and Mafia as after-safari experiences.
The Caribbean and Its All-Inclusive Resorts
No one does all inclusive resorts for couples better than the Caribbean. When traveling to the Caribbean, all-inclusive is the way to go if you don't want to worry about anything.
A trip to the Caribbean gives you a chance to have one of the most romantic getaways you could ever experience. You will have access to serene white sandy beaches, great dining experiences, luxury accommodations, rich local culture, unlimited opportunities to take part in watersports, several land sports, expeditions to offshore private islands and unrivaled hospitality.
It really is hard to be bored in the Caribbean. Even just staring out at a beautiful sunset can be thrilling.
El Nido, Palawan, Philippines
If you want to experience romantic vistas, El Nido, Palawan should be your next stop.
El Nido is a cluster of beautiful islands towards the tip of Palawan. It is best known for its exotic marine life, lagoons and coral reefs, but it offers honeymooners so much more than that. Hotel prices are quite affordable. You can find good rooms for as low as $25 a night if you are on a backpacker's budget. Luxury hotels start from around $100 a night up to $500 a night or more depending on what you are looking for.
While in El Nido, you can go snorkeling at Shimizu Island, visit the Kalit waterfalls, Cathedral Cave, secret beaches, and Snake Island. You can also go diving in one of the more than 30 dive sites, spend time playing and splashing in the lagoons, visit the Matinloc Shrine, hop from island to island and sample local cuisine.
Adventures and Shopping in Dubai
Dubai has been designed specifically for fun-loving travelers. The destination wasn't worth writing about just 3 decades ago, yet it now attracts more shoppers than any other shopping destination in the world.
Dubai affords honeymooners palatial hotel suites, exhilarating desert safaris, endless spa treatments, unlimited shopping options with malls the size of a small town, and an opportunity to marvel at what man can achieve architecturally.
If you want to honeymoon in a cosmopolitan city, Dubai is your best bet. It has managed to seamlessly fuse Arabian tradition with Western culture. Dubai is one of those cities where foreigners outnumber the natives. You will find people from every corner of the globe in this cultural melting pot.
Kauai, Hawaii
Most people are already familiar with Hawaii as a travel destination. Hawaii has been tried and tested by hundreds of thousands of travelers and found worthy. Adding Kauai, Hawaii to your honeymoon itinerary will ensure a great experience.
Hawaii is one of the few places in the United States that still has an authentic, wild feeling. You will love the drive from the airport to your resort. The scenery is just breathtaking.
There are reputable luxurious resorts in Kauai to meet the needs of even the pickiest couple. You can browse comments on review sites to see which one actually fits your needs. Most of the luxury resorts offer all inclusive honeymoon packages. Choosing a resort with a great view is probably the best decision you will make. A great view gives you an opportunity to fully take in the Island.
Do Something Unforgettable
Committing to share your life with the love of your life is a great milestone and should be celebrated in a way that matches its significance. If you can afford it, spare no expense and seek to have the best experiences the world has to offer. You will be glad you did.